The Girls were sent a bundle of goodies by Memory Foam Warehouse so that we could enjoy talking about the Classic film Bedknobs and Broomsticks, but also so that we could talk about beds. As if I need encouragement: my bed would be my Desert Island Luxury item!
My Girls are similarly inclined. They take care to make sure the covers are just so when they get into bed. They arrange their favourite possessions, including dolls house furniture, magazines, pen and paper and the ubiquitous stuffed toys. I am astonished that they fit with all that "important stuff" with them. None of it ever falls out either. When I asked them why they did so, the answer- with a d'uh- was that they needed the things in their dreams.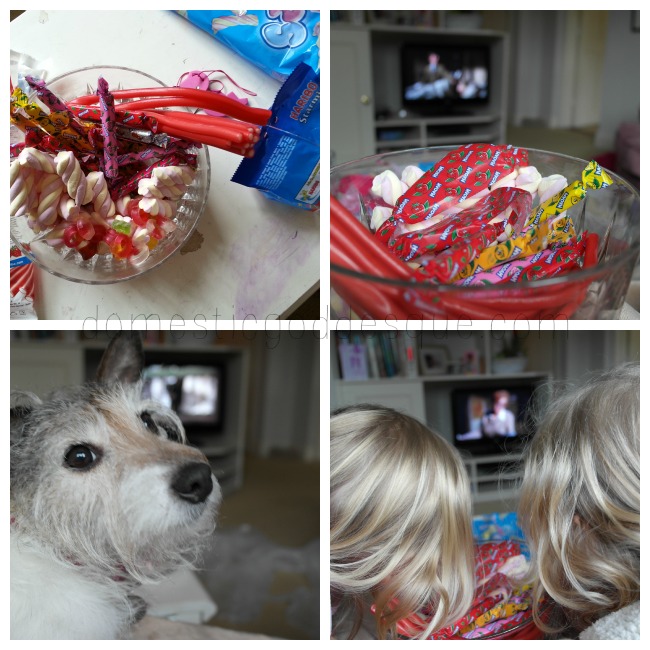 I think that's the inspiration behind their Bed 2071, so called because that's how many buttons it has, which comes with all the standard features, [as dictated]:
a top bit and a bottom bit to stop you growing too fast
a lovely mattress that is good to bounce on if you have too much energy
lots of little spaces for important things- there are little shelves by the head and pockets for small things that might get lost in the covers
really comfy cushions and blankets which are all so soft, like marshmallows and bunny tails.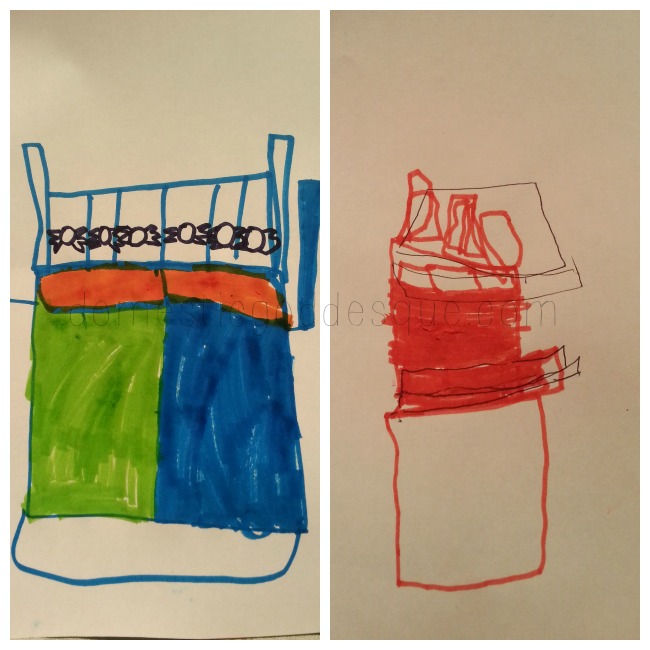 In addition the bed has a few novel additions that I'm not certain you'd find at Memory Foam Warehouse:
silvery sparkly sides so that the fairies can find you in the dark
made from biscuits and pancakes so that you can nibble if you are a bit hungry or didn't like your tea. (These "grow back" magically so there is always food for your friends when they come to sleepover or if you find a lost person or a cat and they are hungry.)
Big straws for a drink of milk which can be hot or cold and all the flavours that you can imagine. The straws have flashing lights that sparkle when you are drinking.
a floating mattress so that when you fall in the water, you can use it as a boat or an island and not get wet at all. And a magic slide that comes out of the bottom so that you can slide into the water and make big splashes.
Wings so that you can fly high up in the clouds. And a cloudy magic that makes you look like a cloud flying in the sky so that nobody can see you.
The bed should be magical and sparkly and have pink and purple and all the colour of the rainbow sparkles when it starts and stops.
Can make you feel better when you are not very well and if you are sad it will make you feel happier. And if you have a headache or you hurt your knee it will fix it on the journey so that you can have a lovely party when you get there.
It can travel to magical lands with fairies and princesses and trees made from sweets and little kittens that sing songs and can juggle.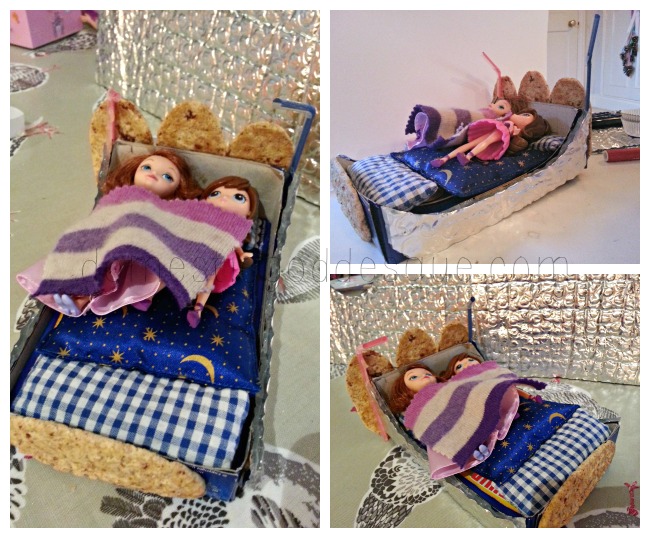 We were provided with a beautiful art set and paper with which to conjour up the bed that they imagined, which the girls fell upon like, well, girls and art supplies. They weren't content with just drawing their bed masterpiece, though. They wanted to make a magical marvellous bed that they could play with and show their dolls. And presumably take to bed. So I helped them construct one from a cardboard biscuit box, craft supplies and bits from the recycling box. As methodical as we were I don;t think there was space for 2071 buttons. But the dolls in the dollhouse seem happy enough to ride in it!
We were sent the items mentioned, and were asked to talk to our children about imaginary beds, then create an artwork of that magical bed, which we did, and which is our entry to the Memory Foam Warehouse's The Age of Believing competition. The prize is a £100 Disney Store voucher.