Because I have two girls, I find that whenever I get one something, the other wants exactly the same thing.
It's a frustration that I hope they will grow out of. Except when it comes to clothes. Secretly, you see, I quite like them when they wear matching dresses. It's adorable in a slightly kitsch way, makes people say "Oh how sweet!" or similar and- and I do find this a total bonus- makes them much much easier to spot when we are out and about at a party and I lose sight of them.
Recently I ordered LBG a heap of stuff from Florence & Fred on the Tesco clothing site when I realised she'd had a growth spurt and was in danger of looking like Miley Cyrus when she left the house. Included in the order was a fabulous Animal Print Party Dress, which sent her into delirium: she ran around the house shrieking "Oh Mamma, this is the most wonderful dress ever!" (She gets her dramatic flair from me.)
Sadly this caused the Dimpled One to melt into a pool of distraught tantrummy three-year-old, a condition I thought she may never recover from. And yet the next day the Tesco Christmas Fairy got in touch offering us an item to review. A mere 24 hours later, Dimples had a dress as chic as her sister's, and Mamma's Bacon (not to mention ear-drums, sanity and general Christmas Spirit) was saved.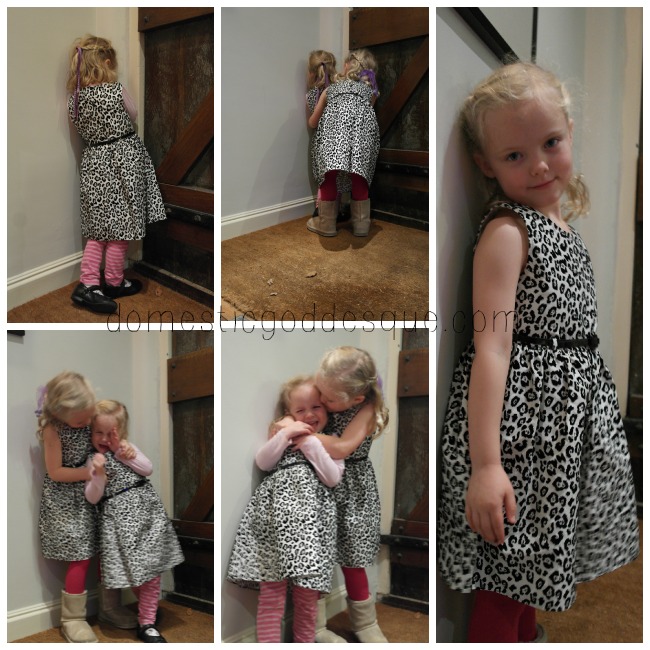 Hurrah for F&F Kids Clothing: easy to wash, easy to wear and easy on the wallet! Chic as chips, I say.
Such a shame that the aforementioned overjoyed Dimpled One was a little reluctant to have her picture taken in the Christmas dress. You can't always get what you want when you are a parent, even one that blogs. But the dress looks pretty!
Disclosure: Clothing at Tesco very kindly offered us a review item for the purposes of writing this post.