Up until recently we were living in the centre of a busy London Borough on a main road. My children never went beyond the front door without me. They never ventured beyond my line of sight. This, more than anything, is the experience that has informed all our holiday decisions.
We go camping, stay on farms, walk along beaches. We give them experiences: the chance to run free, barefoot, past their bedtime. The chance to feed lambs in their pjs. The chance to go off exploring without a parent.
It's one of the reasons that, when most people head off to the tropics in their summer vacation, we headed North to the Arctic Circle last year. To Finnsnes, north of Tromso in Northern Norway (another Home Exchange). No, we didn't need snow gear, though the snow was still visible on some of the hills even with the sun shining for 23 hours a day. In fact the first week we were there we spent most of the time in shorts. The sun shone for 23 hours a day.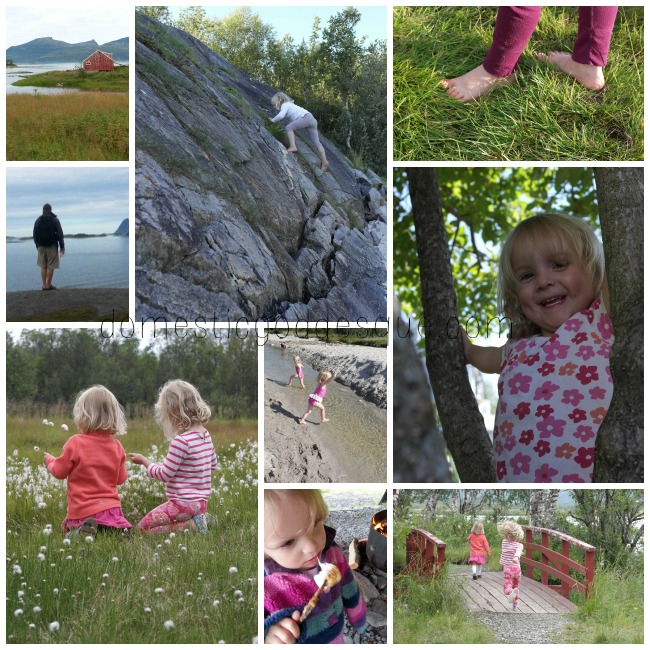 Which was ideal, because we spent a lot of time outdoors.
We're not ultra keen walkers or cyclists or anything like that, but the air was so clean it was intoxicating. DH and I sat out on a balcony during the late-night sunset every evening, saluting the sun with a beer. The children literally could not fall asleep until they were exhausted with fresh air and running around, drunk on the freedoms that they did not get back home. The chance for them to run free without us worrying was as intoxicating for them as it was for us. Let me tell you what it feels like:
It feels like a glass of cold clear water from a mountain stream that my children drank from whilst we explored a local National Park.
It feels like sitting on clear white sand eating a treat, then digging trenches and moats and making artworks with the shells and rocks.
It feels like making dams in icy tributaries leading out to the sea, and sailing leaves downstream.
It feels like sitting on a rocky outcrop cooking sausages on a portable barbecue whilst your tiny children climb another rocky outcrop barefoot because they've seen bigger kids do just the same.
It feels like teaching your children how to skim stones on a fjord as still as a millpond.
It feels like rolling down grassy slopes to see how many times you can roll over before you feel ill, and not worrying whether your clothes will get dirty, or if the slope is covered in litter or condoms or syringes.
It feels like dancing barefoot in a field of dandelion heads, picking so many that you start sneezing.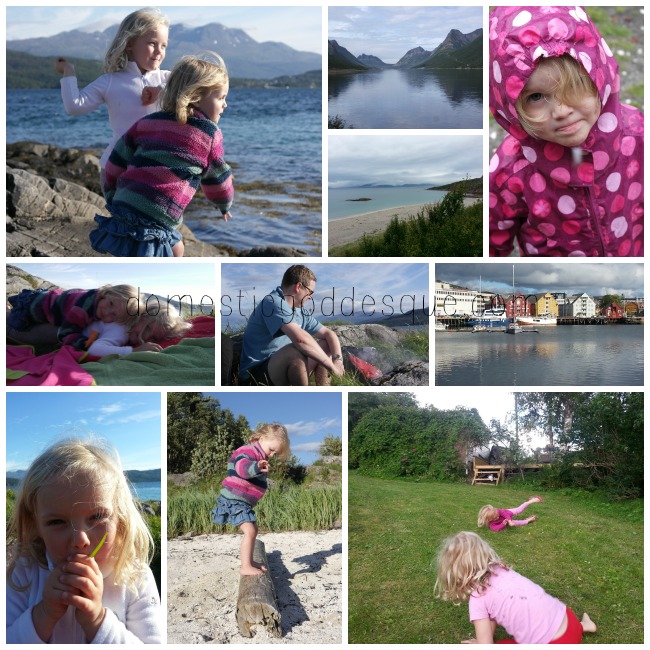 It genuinely felt like we were in a novel: Swallows and Amazons, The Famous Five, The Railway Children. Unsurprising that my children have begged repeatedly to return: to see the Trolls, to revisit the Northernmost Zoo, to run through meadows, build dams, paint faces with fingers wet from the lake on rocks that have been drying in the midnight sun.
It's far from the world my children inhabit: we have to get in the car whether for the school run or if we need a pint of milk. They have after-school clubs and homework. I spend the day worrying about school choices and internet safety and stranger danger. They don't get to have the childhood I did. I hope that being children all day long on holiday is enough to make up for it.
Who knows what our next adventure will be. I'm kind of hoping it's to the Glorious South West of France and the amazing Geodome camping experience that Glisten Camping offers. Childhood running free: our holiday in Northern Norway is our #glistenmoment.